Virginia was chosen as a targeted community through the Vocational Rehabilitation Technical Assistance Center: Targeted Communities (VR-TAC-TC) or Project E3. Project E3 partnered with State VR Agencies and local community partners to improve outreach and employment-related services to underserved people with disabilities in these communities.
---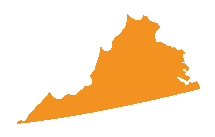 Virginia is located between the Atlantic Coast and the Appalachian Mountains in the Southeast.  It is the 35th largest state by area.  Forests cover 65% of the state and the climate is humid and fairly warm, with daytime temperatures ranging from the mid 40's to the mid 80's throughout the year.  The five regions of the state include coastal plains, mountains, valleys and rivers. 
Coal mining is an important part of the state's economy, along with farming, business, and the military.  Virginia is also known as "the Mother of Presidents" as eight U.S. Presidents were born there.  The state has 30 National Park Service units, such as the Appalachian Trail and the Shenandoah National Park. 
The southeastern region of Virginia is identified as the Hampton Roads Region. It is known for its large military presence, ice-free harbor, shipyards, coal piers, and miles of waterfront. All of these contribute to the diversity and stability of the region's economy.
Targeted Communities
The state-federal vocational rehabilitation system in Virginia faced many challenges as it strove to serve people with significant disabilities and promote competitive integrated employment. Project E3 provided intensive technical assistance to two regions of the state:
Region 1: City of Martinsville and Henry County
Region 2: Hampton Roads Region

Highest Emergency Room Overdose Rate
involving unintentional opioid, heroin, or "unknown substance" related overdoses in January 2017.
---
Lowest Hourly Wage
Average wage for people with a substance abuse disability  is significantly lower than the average hourly wage for consumers of all disabilities.
Martinsville and Henry County
Region 1
State rate = 11.2%
National rate = 11.3%
---
Martinsville and Henry County
Region 1
State rate = 3.6%
National rate = 4.1%
VOCATIONAL REHABILITATION
Martinsville and Henry County
applied for services
Services from the Virginia Department of Aging and Rehabilitation Services (DARS) 
---
OPERATING SHLTERED WORKSHOPS
The oldest and largest of these is in Martinsville.
Targeted Populations
Consumers with drug abuse and dependency
Persons with mental illness
These populations were characterized as:
Persons with multiple disabilities
Residents of rural and remote communities
Subminimum Wage Employees
SSI and SSDI recipients
Consumers receiving federal financial assistance (TANF)
Primary Challenges for Targeted Populations
Some of the challenges of this population in Virginia included:
The broad impacts of poverty.
A lack of information about disability and vocational rehabilitation resources.
Limited transportation options.
Discrimination or stigma surrounding substance abuse and dependence, and mental illness.
Negative attitudes among employers toward employment of persons with disabilities.
Lack of motivational supports.
Fear of losing existing financial and health benefits due to employment.
Lack of opportunities for peer-mentoring and support.
Loss of hope in light of low wages and high unemployment.
Lack of employment opportunities and skills gaps for the existing economy.
Over-reliance on non-integrated employment
Key Strategies to Address Barriers
Following are some of the key strategies developed and implemented to address the targeted populations' challenges and barriers to employment.
Community-Based Participatory Research: Project E3 collaborated with community members to identify social issues, enhance community relations, increase the quality and validity of research, generate knowledge, disseminate study findings, improve individual and community well-being, and impact policy.
Bridges Out of Poverty: Strategies for Professionals and Communities Training: Provided counselors and partners with a better understanding of barriers and resources for serving the targeted populations.
Counselor Motivational Interviewing (MI) Training: Provided opportunities for Vocational Rehabilitation counselors to access training on Motivational Interviewing.  Motivational interviewing is an evidence-based counseling method used to help people resolve ambivalence and develop internal motivation to change behavior.
Braiding and Leveraging Resources: Increased the capacity and interrelationships of community partners and Virginia Disability and Rehabilitation Services to build a coordinated and comprehensive support system, including connections to federal and state programs.
Financial Capability and Asset Development Training: Connected low-income workers to financial literacy classes, credit counseling, mainstream financial services, and matched savings programs, while simultaneously discouraging detrimental financial behaviors such as engagement with predatory lenders.
Benefits Counseling: Increased access to information and supports around benefits counseling to address misunderstanding and fears about the impact of employment on existing SSI and other benefits.
Project Outcomes
Project E3 provided Virginia's state Vocational Rehabilitation agencies and their partners with the skills and competencies needed to effectively and efficiently address barriers to competitive integrated employment and community integration encountered by persons with disabilities in these regions.
Our specific goals for this project were to:
Increase participation in state vocational rehabilitation programs of people with disabilities from low-income communities.
Increase the number and percentage of people with disabilities from low-income communities who complete their vocational rehabilitation program and achieve competitive integrated employment.
Increase the support services provided by community agencies to individuals with disabilities from low-income communities who participate in the vocational rehabilitation program.
Increase coordinated vocational rehabilitation program/community agency service delivery systems and strategies providing comprehensive supports to individuals with disabilities from low-income communities who participate in the vocational rehabilitation program.
Increase the regions' rehabilitation rate by approximately 60% to be consistent with the statewide rehabilitation rate.
Close the wage gap for targeted populations in the Hampton Roads Region to align with the statewide average wage for consumers with all disabilities.
Cut the wage gap in half for targeted populations in Martinsville/Henry County
We will leverage promising practices, knowledge, and experience gained from this project to expand employment opportunities for individuals with disabilities from underserved and economically disadvantaged populations throughout Virginia and across the United States.
Virginia Overview PowerPoint Presentation
More Information
For further information about the Virginia community activities:
---
Continuation and Sustainability Plan

Related Content