South Carolina is a location chosen as a targeted community through the Vocational Rehabilitation Technical Assistance Center: Targeted Communities (VR-TAC-TC) or Project E3. Project E3 will partner with State VR Agencies and local community partners to improve outreach and employment-related services to underserved people with disabilities in these communities.
---

South Carolina is known for its 187 miles of coastline, beautiful lush gardens, historic sites and Southern plantations, and its growing economic development.  The state's Atlantic coastline is a popular destination for travelers.  South Carolina is the 40th largest state in area and 23rd most populous state.  Agriculture, including cotton, hay, and soybeans, as well as industry including textiles, chemical products, and paper products are important to the economy. 
Targeted Communities
The state-federal vocational rehabilitation system in South Carolina faces many challenges as it strives to serve people with significant disabilities and promote competitive integrated employment. Project E3 will provide intensive technical assistance to two regions of the state:
Region 1: Pee Dee Region – Horry, Georgetown, Florence, and Marion Counties
Region 2: Midlands Region – Sumter, Calhoun, Richland, and Kershaw Counties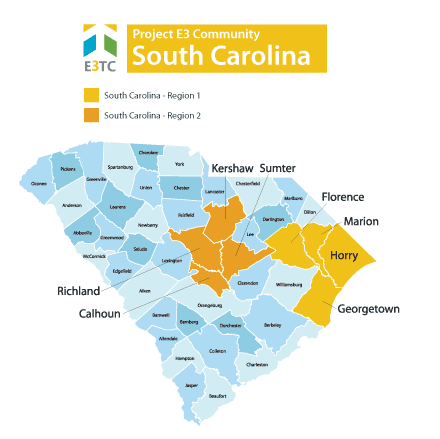 People Reporting Vision Difficultieis
16,826
people in Pee Dee region
Targeted Populations
Women over the age of 18 who have specific sensory impairments including blindness or other visual impairments, who are receiving Temporary Assistance for Needy Families (TANF), Supplemental Security Income (SSI), or Social Security Disability Insurance (SSDI).
African-American males over the age of 18 who have specific sensory impairments, including blindness or other visual impairments.
These populations are characterized as:
Culturally diverse populations
Consumers receiving federal financial assistance (TANF)
Residents of rural and remote communities
High school dropouts and functionally illiterate consumers
Persons with multiple disabilities (e.g., deaf-blindness, HIV/AIDS with substance abuse)
SSI and SSDI recipients, including subminimum-wage employees
Primary Challenges for Targeted Populations
Despite the provision of high quality vocational rehabilitation services, individuals with disabilities within the Pee Dee and Midlands regions continue to experience high poverty and high unemployment. These outcomes persist due to numerous barriers that exist in the engagement in and completion of vocational rehabilitation programming. These barriers include:
Impact of rural environment on transportation, job opportunities, job diversity
Geographic barriers to service provision and employment opportunities
Limited awareness in the community of the services South Carolina Commission for the Blind and other service providers resulting in few applications for services relative to the number of individuals eligible for services
Limited engagement in vocational rehabilitation services over concerns of loss of disability benefits
Limited training for counselors in evidence-based practices
Limited awareness of the distributed local labor market, employer expectations, and opportunities to develop home-based or self-employment jobs
Limited successful employment histories
Anchoring to geographic community that limits migration for work
Seasonal employment opportunities associated with tourism
Key Strategies to Address Barriers
Following are some of the key strategies being developed and implemented to address the targeted populations' challenges and barriers to employment.
Engagement to provide consumers with information about South Carolina Commission for the Blind and South Carolina Vocational Rehabilitation Services and related community service providers.
Benefits Counseling: Provide information on Social Security program rules and how employment impacts benefits. The goal is to help people make informed choices about employment. 
Employability Skills Training:Employability skills training increases a person's ability to work with others and function socially.  It also teaches them how to adjust to workplace expectations, including written and unwritten rules and social norms.
Financial Literacy Training: The Make your Money Talk program will give clients the opportunity to develop personal money management skills and plan for their financial future. It is a three session personal finance education program.
Counselor Motivational Interviewing (MI) Training: Provide opportunities for vocational rehabilitation counselors to access training on Motivational Interviewing.  Motivational interviewing is an evidence-based counseling method used to help people resolve ambivalence and develop internal motivation to change behavior.
Job Exploration Counseling: Job Exploration Counseling can include a variety of activities to help people explore and reach their career goals. Rehabilitation career counselors work with people with disabilities explore their interests and abilities, short- and long-term career goals, jobs available in the local economy, and issues related to disability and employment.
Project Outcomes
Project E3 will provide South Carolina's state Vocational Rehabilitation agencies and their partners with the skills and competencies needed to effectively and efficiently address barriers to competitive integrated employment and community integration encountered by persons with disabilities in these regions.
We will leverage promising practices, knowledge, and experience gained from this project to expand employment opportunities for individuals with disabilities from underserved and economically disadvantaged populations throughout South Carolina and across the United States.
Our specific goals for this project are to:
By the end of the first year, 25 individuals from each region will apply or return to vocational rehabilitation services.
By the end of the second year, approximately 18 individuals from each region will be found eligible for services.
By the end of the second year, the number of people who complete an Individualized plan for employment will increase by 50%. Of those, there will be an increase in the cases closed in competitive, integrated employment by 25%.
The project will develop a community consortium to direct, develop, and sustain services during the project and into the coming years.
South Carolina Overview PowerPoint Presentation
More Information
For further information about the South Carolina community activities: