Kentucky was chosen as a targeted community through the Vocational Rehabilitation Technical Assistance Center: Targeted Communities (VR-TAC-TC) or Project E3. Project E3 partnered with State VR Agencies and local community partners to improve outreach and employment-related services to underserved people with disabilities in these communities.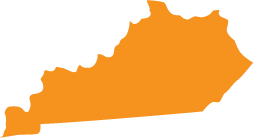 Kentucky is known as the "Bluegrass State", a nickname based on the blue grass found in its many areas of rich, fertile soil. It offers diverse environments and abundant resources, and is known for horse racing, bourbon distilleries, coal mining, tobacco, and bluegrass music, among other things.
Kentucky is a primarily rural state, incorporating 54 Appalachian counties, and characterized by a high poverty rate relative to other U.S. states. The geographic isolation of Kentucky's rural communities poses significant challenges for persons with disabilities in achieving competitive, integrated, and lasting employment, and community participation and integration.
The rural nature of Kentucky and the centralization of employment opportunities in urban areas create significant transportation and access barriers to employment opportunities.
Targeted Communities
The state-federal vocational rehabilitation system in Kentucky faced many challenges as it strove to serve people with significant disabilities and promote competitive integrated employment. Project E3 provided intensive technical assistance to two geographically distinct regions of the state:
Region 1: Wayne and Rockcastle Counties
Region 2: Jackson, Lee, and Breathnitt Counties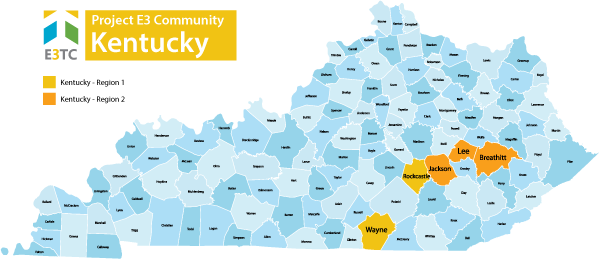 ---
The rate of disability among non-institutionalized working-age people is second highest in nation.
---
People with disabilities = $30,200
People without disabilities = $53,700
difference in income levels
WORKING AGE PEOPLE WITH DISABILITIES
RECEIVING SSI PAYMENT
---
people with disabilities
HAVE A BACHELOR'S DEGREE
People with disabilities
with Bachelor's degree or higher = 9.7%
People without disabilities 
with Bachelor's degree or higher = 26.2%
---
Poverty in Appalachia is extreme and qualitatively different from other rural areas of the United States.
---
children living
below poverty level
Targeted Populations
Within the targeted communities, Project E3 focused on improving vocational rehabilitation service outcomes for these populations:
Residents of economically disadvantaged rural and remote communities who:
are students or transition-aged youth (aged 16-24) and
have diagnoses of commonly identified developmental disabilities and/or with specific sensory impairments, and
are seeking vocational rehabilitation rather than sheltered employment
Residents of economically disadvantaged rural and remote communities who:
Have mental health diagnoses, and for whom
transitional employment is no longer an option under the Workforce Innovation and Opportunity Act (WIOA)
Primary Challenges for Targeted Populations
The combination of the challenges above and other factors created significant barriers for persons with disabilities living in Kentucky, including access to and opportunities for:
Residents of rural and remote communities
Subminimum wage employees
Persons with multiple disabilities
Key Strategies to Address Barriers
Following are some of the key strategies developed and implemented to address the targeted populations' challenges and barriers to employment.
Community Work Transition Program

: Expanded the Community Work Transition Program to serve the regions targeted by Project E3.  This program helps students with their transition needs by providing community experiences, instruction, and employment opportunities. It provides students with a comprehensive career assessment based on the student's interests, preferences, and strengths. This project focused primarily on improved employment outcomes for youth as they moved through their last two years of school.
Individual Placement and Support: Expanded and extended Individual Placement and Support services. This evidence-based model of supported employment helps people with severe mental illness work in integrated employment settings of their choosing.
Motivational Interviewing: Provided opportunities for vocational rehabilitation counselors to access training on Motivational Interviewing and Impression Management.  Motivational Interviewing is increasingly used in state vocational rehabilitation programs to promote working alliance and support client engagement. It is an evidence-based counseling method used to help resolve ambivalence and develop internal motivation to change behavior.
Transportation: Met with County and State Government participants, employers, and Chambers of Commerce Presidents in Region 1 to explore the expansion and improvement of existing public transportation services.
Benefits Counseling: Increased access to information and supports around benefits counseling to address misunderstanding and fears about the impact of employment on existing Social Security and other benefits.

Improved outreach and access to information about disability and vocational rehabilitation resources:

Expanded efforts to connect with potential service referral sources including faith communities, physicians, mental and behavioral health agencies, National AgrAbility Project, Easter Seals' Project ACTION, Rural Housing Services, Association of Programs for Rural Independent Living, and local Chambers of Commerce.
Project Outcomes
Project E3 provided Kentucky's state Vocational Rehabilitation agencies and their partners with the skills and competencies needed to effectively and efficiently address barriers to competitive integrated employment and community integration encountered by persons with disabilities in these regions.
We will leverage promising practices, knowledge, and experience gained from this project to expand employment opportunities for individuals with disabilities from underserved and economically disadvantaged populations throughout Kentucky and across the United States.
Kentucky Overview PowerPoint Presentation
More Information
For further information about the Kentucky community activities: