Oregon was chosen as a targeted community through the Vocational Rehabilitation Technical Assistance Center: Targeted Communities (VR-TAC-TC) or Project E3. Project E3 partnered with State VR Agencies and local community partners to improve outreach and employment-related services to underserved people with disabilities in this community.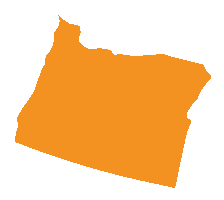 Oregon is in the Pacific Northwest on the West Coast. It is primarily rural state and is one of the most geographically diverse states with volcanoes, dense evergreen and mixed forests, many bodies of water, high deserts, and semi-arid shrub lands. The generally mild climate and variety of natural landscapes makes Oregon a beautiful and popular place to visit.
Oregon's economy is mainly driven by agriculture, fishing, and hydroelectric power.  It is also one of the largest timber producers in the United States. 
Targeted Communities
The state-federal vocational rehabilitation system in Oregon faced many challenges as it strove to serve people with significant disabilities and promote competitive integrated employment. Project E3 provided intensive technical assistance to two regions of the state:
Region 1: Southwest Oregon (Jackson, Josephine, Klamath, and Douglas Counties)
Region 2: Central Oregon (Deschutes, Jefferson, and Crook Counties)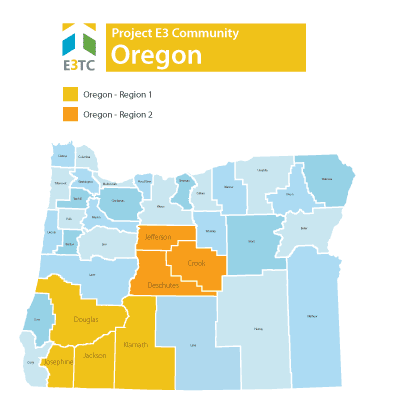 ---
oregonians
live in rural areas
23 of Oregon's 36 counties are non-metropolitan
---
OREGONIANS
REPORT BLINDNESS OR SERIOUS VISION PROBLEM
---
---
employment rate
people with a vision disabiity
Employment rate for people without a vision disability= 78.1%
Targeted Populations
Students or transition-aged youth between the ages of 14-24 who
Are residents of rural and remote communities
Have specific sensory impairments including blindness, other visual impairments, or deaf-blindness
Are seeking vocational rehabilitation services
Adults over age 24 who
Are residents of rural and remote communities
Have specific sensory impairments including blindness or other visual impairments
These populations were characterized as:
Residents of rural and remote communities
Consumers receiving federal financial assistance (TANF)
SSI and SSDI recipients
Persons with multiple disabilities
Primary Challenges for Targeted Populations
Some of the challenges of this population in Oregon included:
The broad impacts of poverty in its interaction with blindness and vision disability in the rural and remote areas of Oregon
The inability of vocational rehabilitation services to forecast the pipeline of students with blindness/visual impairment emerging into transition age
Lack of information to the community about disability and vocational rehabilitation resources
Limited transportation options for travel to employment, training, and employment-related services
Negative attitudes among employers toward employment of persons with disabilities
Limited work skills, work experience, and understanding of employer expectations
Restricted opportunities for accessing adaptive equipment and rehabilitation technology and limited opportunity for training in its use
Key Strategies to Address Barriers
Following are some of the key strategies developed and implemented to address the targeted populations' challenges and barriers to employment.
Community Based Participatory Research (CBPR): To understand a community's issues and concerns, one needs data and information both supplied by common data sources and interpreted by the community to better understand their issues and possible solutions to those issues.  CBPR's methodology is predicated on deep and extensive community involvement in the identification of issues and concerns and in the resolution of those issues and concerns.
Transportation: Transportation is regularly cited as the number one barrier for persons with disabilities.  Working with Oregon, Kentucky developed a series of transportation modules and successful practices which help address the issue.  The transportation modules were tailored to the needs and issues in Oregon.
Integrated Resource Teams: To overcome shortage of resources, overlapping services, lack of information, and coordinated planning, Integrated Resource Teams (IRTs) are an excellent way to structure collaborative working arrangements as well as consider options for the blending and braiding of services and funding. IRT membership depends on the locale and existing working relationships and can include Vocational Rehabilitation, education, social services, Workforce, faith-based organizations, mental health agencies, veteran's agencies, etc. Oregon received on-going training and support on the use of IRT in their daily work.
Community Outreach and Orientation: Community buy-in and support needs constant attention as community members change and new members are added. Oregon actively engaged Vocational Rehabilitation and community partners in regular discussions of issues and common methods to help resolve those issues.  The pandemic caused a switch to virtual meetings.
Oregon Overview PowerPoint Presentation