New Mexico was chosen as a targeted community through the Vocational Rehabilitation Technical Assistance Center: Targeted Communities (VR-TAC-TC) or Project E3. Project E3 partnered with State VR Agencies and local community partners to improve outreach and employment-related services to underserved people with disabilities in this community.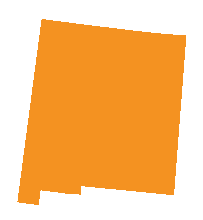 New Mexico is one of the Mountain States. The landscape ranges from deserts, to mesas, to high, snow-capped mountains.  New Mexico has large Native American and Hispanic populations.
The discovery of oil in 1928 led to oil and gas production in New Mexico.  More recently, several industry clusters are growing and thriving, thanks to competitive incentives, world-renowned laboratories and research facilities, an innovative entrepreneurial scene, and a highly skilled workforce. A few of these include customer service centers, solar technology and renewable energy, and microsystems and nanotechnology.
New Mexico's disability rate in 2014-16 was 10% in the state and 13.5% among Hispanics. The state's poverty and unemployment rates are higher than national averages.
Targeted Communities
The state-federal vocational rehabilitation system in New Mexico faced many challenges as it strove to serve people with significant disabilities and promote competitive integrated employment. Project E3 provided intensive technical assistance to two regions of the state:
Region 1: Albuquerque (Bernalillo County)
Region 2: Deming (Luna County)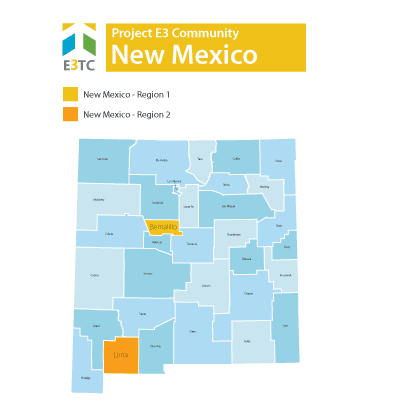 ---
Albuquerque is the most populous city in New Mexico.
Hispanic (47.7%)
Caucasian (40.9%)
American Indians (3.8%)
---
---
Poverty among Hispanics and American Indians in Albuquerque
 is one of the highest in the
state and county.
---
---
---
Females living in poverty
Targeted Populations
Within the targeted communities, Project E3 focused on improving vocational rehabilitation service outcomes for these populations:
Persons with a primary disability of anxiety disorder, depressive disorder, personality discords, and/or other mood disorders
Persons with a primary disability of alcohol abuse or drug dependence
These populations were characterized as:
Culturally diverse populations
High school dropouts and functionally illiterate consumers
Persons with multiple disabilities
Residents of rural and remote communities
SSI and SSDI recipients
Subminimum Wage Employees
Primary Challenges for Targeted Populations
The effects of lack of financial capability for these populations often translated into:
Lower levels of education
Higher prevalence of disability
Lower access to health insurance
Greater food insecurity
Higher prevalence of homelessness
Significantly less awareness of public support programs
Key Strategies to Address Barriers
Following are some of the key strategies developed and implemented to address the targeted populations' challenges and barriers to employment.
Community Based Participatory Research (CBPR): To understand a community's issues and concerns, one needs data and information both supplied by common data sources and interpreted by the community to better understand their issues and possible solutions to those issues.  CBPR's methodology is predicated on deep and extensive community involvement in the identification of issues and concerns and in the resolution of those issues and concerns.
Integrated Resource Teams: Casa de Phoenix (CdP) staff were trained on the IRT model and implemented the model with residents of their program.  Until the end of the grant, Project E3 provided coaching of the IRT model to lead counselors of NM-DVR, as well as staff of CdP and NM Workforce Connection.  IRT implementation occurred in both Albuquerque and Demining, NM.
Work Incentive Benefits Counseling: NM Workforce Connection in Albuquerque partnered with Project E3 to develop a Benefits Advisor position in the their One-Stop Center.  The initiative was postponed due to impact of COVID-19 on operations of the Center.  However, leadership from the Center entered into a contractual agreement with Project E3 to create this position.   Project E3 will fund up to .50 FTE of the salary and fringe costs of that staff person until the end of the grant and NM Workforce Connection will fund the other .50 FTE.
Job Clubs: A Job Club was launched at CdP.   Residents participated in a curriculum that was developed collaboratively between Project E3 staff and Hopeworks staff.   E3 staff provided on-going coaching during the rollout to promote a successful implementation and sustainability of the Job Club
New Mexico Overview PowerPoint Presentation
Project Outcomes
Project E3 provided New Mexico's state Vocational Rehabilitation agencies and their partners with the skills and competencies needed to effectively and efficiently address barriers to competitive integrated employment and community integration encountered by persons with disabilities in these regions.
Our specific goals for this project were to:
Increase awareness of social support networks available to people with disabilities
Help people with disabilities apply for needed services
Increase interest in learning time management, money management, medicine management, public transportation, social skills, and good hygiene
Improve individual ability to find, apply, and be interviewed for employment
Improve access to vocational rehabilitation supports
Inform employers in the community about the benefits of employing people with disabilities
We will leverage promising practices, knowledge, and experience gained from this project to expand employment opportunities for individuals with disabilities from underserved and economically disadvantaged populations throughout New Mexico and across the United States.
Continuation and Sustainability Plan
More Information
For further information about these community activities contact: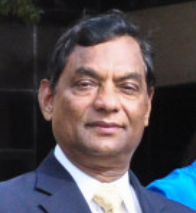 Dr. Madan M. Kundu, Ph.D., FNRCA, CRC, NCC, LRC
Project E3 Project Director
Chair & Professor, Rehabilitation & Disability Studies
Southern University – Baton Rouge
madan_kundu@subr.edu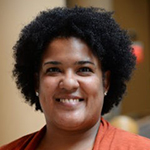 Susan Flowers, Ph.D., CRC
Project E3 Principal Investigator
Assistant Professor, Rehabilitation & Disability Studies
Southern University – Baton Rouge
susan_flowers@subr.edu