New Jersey was chosen as a targeted community through the Vocational Rehabilitation Technical Assistance Center: Targeted Communities (VR-TAC-TC) or Project E3. Project E3 partnered with State VR Agencies and local community partners to improve outreach and employment-related services to underserved people with disabilities in this community.
---

New Jersey, also known as "The Garden State", is among the leaders in many types of agricultural production.  The state is a peninsula, bordered by the Atlantic Ocean in the east, southeast, and south.  New Jersey is the fourth smallest state in area and the 11th most populous of the 50 states.  The geographic location and factories in cities helped to drive the Industrial Revolution.  Today, New Jersey is one of the most ethically and religiously diverse states in the country.
With a median household income of $76,126 in 2016, well above the national average, and a poverty rate of about 10 percent, New Jersey is the second-wealthiest state in the country. In spite of this, large populations in New Jersey experience unemployment rates higher than the national average and median household incomes far below the federal poverty level.
Targeted Communities
The state-federal vocational rehabilitation system in New Jersey faced many challenges as it strove to serve people with significant disabilities and promote competitive integrated employment. Project E3 provided intensive technical assistance to two regions in New Jersey:
Region 1: City of Newark
Region 2: City of Trenton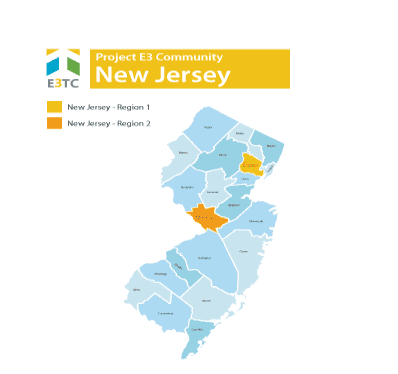 Live in households that received Supplemental Security Income, food assistance, or cash public assistance through the Temporary Assistance for Needy Families (TANF). National rate = 28%
---
Newark
due to successful employment
---
tRENTON
due to successful employment
Targeted Populations
Within the targeted communities, Project E3 focused on improving vocational rehabilitation service outcomes for these populations:
Individuals with drug and alcohol abuse/dependence who receive Social Security disability benefits
Persons with mental illness who receive Social Security disability benefits
These populations were characterized as:
Consumers receiving federal financial assistance through TANF
SSI and SSDI recipients
Persons with multiple disabilities
Primary Challenges for Targeted Populations
The combination of the challenges above and other factors created significant barriers for persons with disabilities living in New Jersey, including:
Impacts of poverty, including limited finances and resources, community support, and unstable family structures
Lack of information about disability and vocational rehabilitation resources
Limited transportation options
Discrimination or stigma surrounding substance abuse and dependence
Negative attitudes among employers toward employment of persons with disabilities
Fear of losing cash and health benefits through work
Key Strategies to Address Barriers
Following are some of the key strategies developed and implemented to address the targeted populations' challenges and barriers to employment.
Community Engagement: Used existing local resources to engage community participation and create partnerships that lead to better collaboration between community agencies. The partnerships informed ongoing decision-making and will promote the long-term sustainability of successful strategies and outcomes beyond the life of the project.
Bridges Out of Poverty – Strategies for Professionals and Communities Training: Provided counselors and partners with a better understanding of barriers to and resources for serving the targeted populations.
Counselor Motivational Interviewing (MI) Training: Provided opportunities for vocational rehabilitation counselors to access training on Motivational Interviewing.  Motivational interviewing is an evidence-based counseling method used to help people resolve ambivalence and develop internal motivation to change behavior.

Braiding and Leveraging Resources: 

Increased the capacity and interrelationships of community partners and New Jersey Division of Vocational Rehabilitation Services. The goal was to build a coordinated and comprehensive support system, including connections to federal and state programs.
Project Outcomes
Project E3 provided New Jersey's state Vocational Rehabilitation agencies and their partners with the skills and competencies needed to effectively and efficiently address barriers to competitive integrated employment and community integration encountered by persons with disabilities in these regions.
Our specific goals for this project were to:
Increase participation in State vocational rehabiliation programs of people with disabilities from low-income communities, focusing on individuals who are the most impoverished and economically disadvantaged
Increase support services provided by community agencies to people with disabilities from low-income communities
Increase the number of people with disabilities from low-income communities who complete their vocational rehabilitation program and achieve competitive integrated employment
Increase coordination between vocational rehabilitation programs and community agencies to provide better support to individuals
We will leverage promising practices, knowledge, and experience gained from this project to expand employment opportunities for individuals with disabilities from underserved and economically disadvantaged populations throughout New Jersey and across the United States.
New Jersey Overview PowerPoint Presentation
More Information
For further information about the New Jersey community activities:
---
Project Sustainability

Related Content