Louisiana was chosen as a targeted community through the Vocational Rehabilitation Technical Assistance Center: Targeted Communities (VR-TAC-TC) or Project E3. Project E3 partnered with State VR Agencies and local community partners to improve outreach and employment-related services to underserved people with disabilities in this community.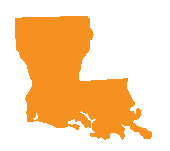 Louisiana is known for its rich diversity of people.  It has more Native American tribes than any other southern state and is home to the descendants of a variety of settlers, including  the French, Spanish, English, German, Acadians, West Indians, Africans, Irish and Italians, and now almost every nationality on earth. There has never been an official language in Louisiana. It is the only state in the U.S. with political subdivisions termed parishes, which are the local government's equivalent to counties.
Energy, advanced manufacturing, commercial fishing, chemicals, and agriculture are all vital parts of the state's economy.
Targeted Communities
The state-federal vocational rehabilitation system in Louisiana faced many challenges as it strove to serve people with significant disabilities and promote competitive integrated employment. Project E3 provided intensive technical assistance to two cities in the Louisiana:
Region 1: New Orleans
Region 2: Baton Rouge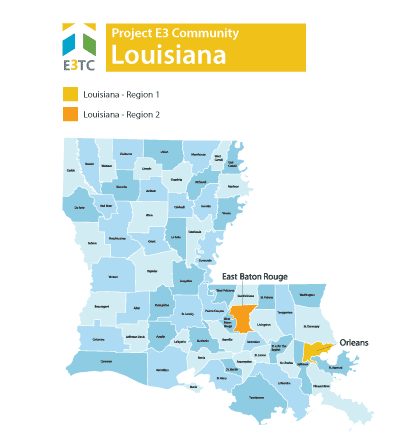 Largest city in Louisiana
Is a major US port

Known for French and Spanish Creole architecture

Hosts Mardi Gras and other celebrations and festivals

Famous for its cuisine and jazz music
NEW ORLEANS
Devastated by Hurricane Katrina
Was the largest parish in Louisiana before Hurricane Katrina

After Hurricane Katrina was the  3rd largest parish



Capitol of Louisiana
Second largest city in Louisiana 

Forms the parish seat of East Baton Rouge Parish

The Port of Greater Baton Rouge is the tenth largest in the United States 
Targeted Populations
Within the targeted communities, Project E3 focused on improving vocational rehabilitation service outcomes for these populations:
Individuals with HIV/AIDS
Individuals with mental health conditions
Individuals with HIV/AIDS and mental health conditions
These populations were characterized as:
Culturally diverse populations
Federal financial assistance recipients (TANF)
SSI and SSDI recipients
Persons with multiple disabilities
Primary Challenges for Targeted Populations
The combination of the challenges above and other factors created significant barriers for persons with disabilities living in Louisiana, including:
Awareness of and access to coordinated and comprehensive community support services
Concerns about confidentiality, stigma, and discrimination
Lack of employability skills
Key Strategies to Address Barriers
Following are some of the key strategies developed and implemented to address the targeted populations' challenges and barriers to employment.
HIV and Mental Health Training: Provided training, technical assistance, and capacity building for vocational rehabilitation and related professionals.
Systems Approach to Placement: Evaluated the effect of training using a Systems Approach to Placement. This model identifies the job placement process in vocational rehabilitation as a system with a dynamic network of interconnecting elements.
Counselor Motivational Interviewing Training: Provided opportunities for vocational rehabilitation counselors to access training on Motivational Interviewing.  This evidence-based counseling method is used to help people resolve ambivalence and develop internal motivation to change behavior.

Vocational Rehabilitation Client Outreach, Recruitment, and Retention:

 Louisiana Rehabilitation Services informed the targeted communities of the positive outcomes of vocational rehabilitation, employment, and independent living via the internet, a project website, and communities of practice.
Follow-Up Case Management Services: Provided follow-up case management services to vocational rehabilitation participants. Examples of services include transportation to appointments and follow-up via telephone calls, texting, and e-mails.
Project Outcomes
Project E3 provided Lousiana's state Vocational Rehabilitation agencies and their partners with the skills and competencies needed to effectively and efficiently address barriers to competitive integrated employment and community integration encountered by persons with disabilities in these regions.
Our specific goals included:
Outreach to at least 190 individuals in the targeted populations and communities.
Increase community awareness of HIV/AIDS and/or Mental Health conditions, their effects on daily lives of clients and families, and ways to access available resources.
Provide training and technical assistance to at least 25 vocational rehabilitation counselors, employment specialists, community outreach personnel, and selected employees of related government entities.
Prepare and approve at least 38 Individual Plans for Employment for clients accepted for vocational rehabilitation services.
Achieve competitive integrated employment for at least 43% of participants with HIV/AIDS and at least 40% of participants with mental health conditions.
We will leverage promising practices, knowledge, and experience gained from this project to expand employment opportunities for individuals with disabilities from underserved and economically disadvantaged populations throughout Louisiana and across the United States.
Continuation and Sustainability Plan
More Information
For further information about these community activities contact: