Louisiana was chosen as a targeted community through the Vocational Rehabilitation Technical Assistance Center: Targeted Communities (VR-TAC-TC) or Project E3. Project E3 partnered with State VR Agencies and local community partners to improve outreach and employment-related services to underserved people with disabilities in this community.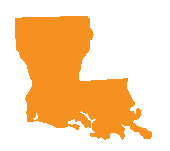 Louisiana is known for its rich diversity of people.  It has more Native American tribes than any other southern state and is home to the descendants of a variety of settlers, including the French, Spanish, English, German, Acadians, West Indians, Africans, Irish and Italians, and now almost every nationality on earth. There has never been an official language in Louisiana. It is the only state in the U.S. with political subdivisions termed parishes, which are the local government's equivalent to counties.
Energy, advanced manufacturing, commercial fishing, chemicals, and agriculture are all vital parts of the state's economy.
Targeted Communities
The state-federal vocational rehabilitation system in Louisiana faced many challenges as it strove to serve people with significant disabilities and promote competitive integrated employment. Project E3 provided intensive technical assistance to two cities in the Louisiana:
Region 1: New Orleans
Region 2: Baton Rouge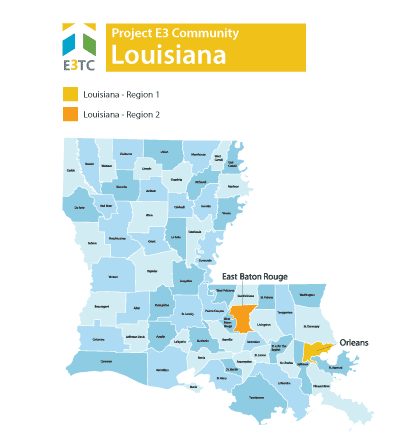 Largest city in Louisiana
Is a major US port

Known for French and Spanish Creole architecture

Hosts Mardi Gras and other celebrations and festivals

Famous for its cuisine and jazz music
Devastated by Hurricane Katrina
Was the largest parish in Louisiana before Hurricane Katrina

After Hurricane Katrina was the 3rd largest parish



Capitol of Louisiana
Second largest city in Louisiana 

Forms the parish seat of East Baton Rouge Parish

The Port of Greater Baton Rouge is the tenth largest in the United States 
Targeted Populations
Within the targeted communities, Project E3 focused on improving vocational rehabilitation service outcomes for these populations:
Individuals with HIV/AIDS
Individuals with mental health conditions
Individuals with HIV/AIDS and mental health conditions
These populations were characterized as:
Culturally diverse populations
Federal financial assistance recipients (TANF)
SSI and SSDI recipients
Persons with multiple disabilities
Primary Challenges for Targeted Populations
The combination of the challenges above and other factors created significant barriers for persons with disabilities living in Louisiana, including:
Awareness of and access to coordinated and comprehensive community support services
Concerns about confidentiality, stigma, and discrimination
Lack of employability skills
Key Strategies to Address Barriers
Following are some of the key strategies developed and implemented to address the targeted populations' challenges and barriers to employment.
Community Based Participatory Research (CBPR): To understand a community's issues and concerns, one needs data and information both supplied by common data sources and interpreted by the community to better understand their issues and possible solutions to those issues.  CBPR's methodology is predicated on deep and extensive community involvement in the identification of issues and concerns and in the resolution of those issues and concerns.
Job Club: UpLiftd hosted a job club in Baton Rouge which was switched to virtual Job Club meetings to adapt to the restrictions imposed by the pandemic. According to facilitators, this format appears to work well, though current rates of participation remained relatively low in the virtual setting.
Integrated Resource Teams (IRT): To overcome misunderstandings between agencies serving persons with disabilities especially individuals with HIV and mental illness, IRTs are an excellent way to structure collaborative working arrangements as well as consider options for the blending and braiding of services and funding. As Project E3 was coming to close, Louisiana explored options for training in IRT
Evidence Based Practice Counselor Toolkit: Mental Health First Aid Training - Mental Health First Aid is a skills-based training course that teaches participants about mental health and substance-use issues.  It is a helpful tool for educating community members who are not familiar with current research and prevalence of mental illness and substance-use issues. It can help obtain buy-in to other strategies to treating mental illness.
Financial Literacy Training: Supported people to develop skills and knowledge about personal money management and helped them develop a plan for their financial future.
Project Outcomes
Project E3 provided Louisiana's state Vocational Rehabilitation agencies and their partners with the skills and competencies needed to effectively and efficiently address barriers to competitive integrated employment and community integration encountered by persons with disabilities in these regions.
Our specific goals included:
Outreach to at least 190 individuals in the targeted populations and communities.
Increase community awareness of HIV/AIDS and/or Mental Health conditions, their effects on daily lives of clients and families, and ways to access available resources.
Provide training and technical assistance to at least 25 vocational rehabilitation counselors, employment specialists, community outreach personnel, and selected employees of related government entities.
Prepare and approve at least 38 Individual Plans for Employment for clients accepted for vocational rehabilitation services.
Achieve competitive integrated employment for at least 43% of participants with HIV/AIDS and at least 40% of participants with mental health conditions.
We will leverage promising practices, knowledge, and experience gained from this project to expand employment opportunities for individuals with disabilities from underserved and economically disadvantaged populations throughout Louisiana and across the United States.
Continuation and Sustainability Plan
Tools and Resources
Financial Literacy Training Tools
National Disability Institute Financial Capability Series
More Information
For further information about these community activities contact: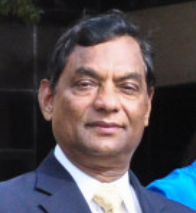 Dr. Madan M. Kundu, Ph.D., FNRCA, CRC, NCC, LRC
Project E3 Project Director
Chair & Professor, Rehabilitation & Disability Studies
Southern University – Baton Rouge
madan_kundu@subr.edu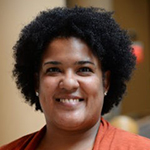 Susan Flowers, Ph.D., CRC
Project E3 Principal Investigator
Assistant Professor, Rehabilitation & Disability Studies
Southern University – Baton Rouge
susan_flowers@subr.edu