New Hampshire was chosen as a targeted community through the Vocational Rehabilitation Technical Assistance Center: Targeted Communities (VR-TAC-TC) or Project E3. Project E3 partnered with State VR Agencies and local community partners to improve outreach and employment-related services to underserved people with disabilities in this community.
---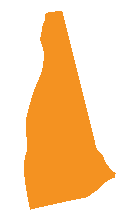 New Hampshire has the highest percentage of timberland area in the country. It has some of the largest ski mountains on the East Coast so skiing, snowmobiling, and other winter sports are major tourist attractions.  The fall foliage and summer cottages along many lakes and the sea are also very popular attractions.  Tourism is an important part of the state's economy.
New Hampshire is a primarily rural state, encompassing a total of 10 counties, seven of which are rural and characterized by higher poverty relative to the urban areas. The geographic isolation of New Hampshire's rural communities poses significant challenges for persons with disabilities in achieving competitive, integrated, and lasting employment, as well as full community participation and integration.
Targeted Communities
The state-federal vocational rehabilitation system in New Hampshire faced many challenges as it strove to serve people with significant disabilities and promote competitive integrated employment. Project E3 provided intensive technical assistance to two regions of the state:
Region 1: North Country (Coos, Carroll, and Grafton Counties)
Region 2: Stratford County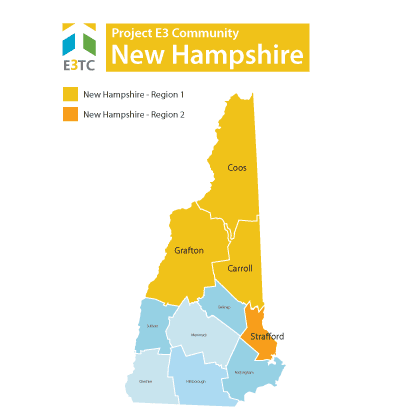 No State Minimum Wage
This makes it more difficult to prepare consumers for: personal finance management, job readiness, and transition to integrated employment.
Lowest in New Hampshire: Coos, Carroll, and Grafton Counties
 4th lowest in New Hampshire: Stratford County
---
---
---
People without disabilities = 6.1%
Students In Special Education
---
Low income students are disproportionately represented in the special education population.
Targeted Populations
Within the targeted communities, Project E3 focused on improving vocational rehabilitation service outcomes for these populations:
Youth with cognitive and/or psychosocial/emotional disabilities between the ages of 14-24 who live in rural or remote communities.
Have applied and engaged with vocational rehabilitation services at lower rates, and attained lower competitive, integrated employment outcomes, than their peers
Includes youth who receive Supplemental Security Income (SSI) and /or are involved in foster care
Adults with cognitive and/or psychosocial/emotional disabilities ages 25 or older who live in rural or remote communities.
Includes adults who receive SSI
Have applied and engaged with VR at lower rates, and attained lower competitive, integrated employment outcomes, than their peers
These populations were characterized as:
Consumers receiving federal financial assistance (TANF)
Persons with multiple disabilities
Residents of rural and remote communities
SSI and SSDI recipients
Transition-age youth (14-24)
Primary Challenges for Targeted Populations
The combination of the challenges above and other factors created significant barriers for persons with disabilities living in New Hampshire, including:
Geographic isolation
Impacts of poverty, including limited finances and resources, community support, and unstable family structures
Lack of transportation
Limited employment opportunities
Inadequate training and education options
Limited vocational rehabilitation services
Key Strategies to Address Barriers
Following are some of the key strategies developed and implemented to address the targeted populations' challenges and barriers to employment.
Community-Based Participatory Research (CBPR): To understand a community's issues and concerns, one needs data and information both supplied by common data sources and interpreted by the community to better understand their issues and possible solutions to those issues.  CBPR's methodology is predicated on deep and extensive community involvement in the identification of issues and concerns and in the resolution of those issues and concerns.
Community Outreach and Orientation: Vocational Rehabilitation held a series of meetings with organizations serving youth to ascertain roles, confidence in their abilities to work collaboratively across schools and agencies going forward, and confidence in ability to help the young people they serve. This would be the basis for future training and collaborative arrangements
Financial Literacy Training: Vocational Rehabilitation and their community-based partners identified financial literacy as a priority strategy and used the "Your Money, Your Goals (PowerPoint)" curriculum to train staff.
New Hampshire Overview PowerPoint Presentation
Project Outcomes
Project E3 provided New Hampshire's state Vocational Rehabilitation agencies and their partners with the skills and competencies needed to effectively and efficiently address barriers to competitive integrated employment and community integration encountered by persons with disabilities in these regions.
Our specific goals for this project were to:
Increase the number and percentage of low-income individuals applying for vocational rehabilitation services by 10% in Years 1 and 2. Identify year 3 outcomes once technical assistance is underway.
Increase the number and percentage of Individual Plans for Employment developed and implemented with participants by 10% each year.
Increase the number and percentage of participants who successfully achieving their competitive, integrated employment goals by 10% each year.
We will leverage promising practices, knowledge, and experience gained from this project to expand employment opportunities for individuals with disabilities from underserved and economically disadvantaged populations throughout New Hampshire and across the United States.
Project Tools and Resources
More Information
For further information about the New Hampshire community activities contact: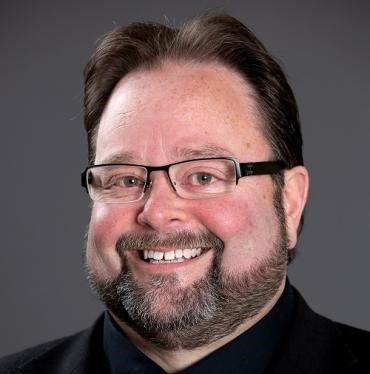 Kyle Walker, MRC, CRC, CPM
Executive Director
Stout Vocational Rehabilitation Institute (SVRI)
walkerky@uwstout.edu